My Mum died 40 years ago on 12 October 1981.
Louise Elsa Kuchel (known as "Elsie") was born on 15 December 1909 in Murray Bridge. She was the oldest of 4 children of Otto Kuchel and his wife, Marie (nee Nicksch).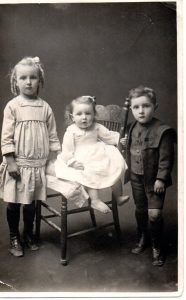 Mum, Auntie Hilda and Uncle Edwin 1915.
She was baptised in Christ Church Lutheran, Murray Bridge, by Pastor LE Kuss on 26 December 1909.  She grew up on a dairy farm at Toora (between Murray Bridge and Mypolonga).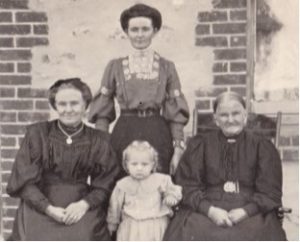 My mum, as a small child, with her mother, Marie Kuchel, grandmother Nicksch and great grandmother Wolf. Great grandmother Nicksch and her mother, my great grandmother Anna Wolf, came to South Australia from Bohemia in 1877. Bohemia is now Czechia.
I am told she began her schooling at Long Flat, living with relatives away from home and continued at the Hundred of Mobilong School (later called Thalia School).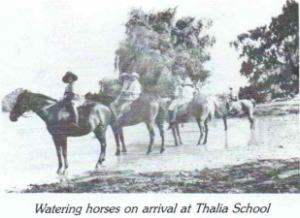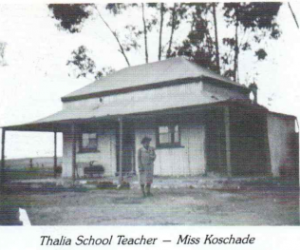 Source: Across the Mighty Murray: Murray Bridge, Murray Bridge and District Historical Society, 1988, page 125
Her results at school were exceptional. She achieved third terminal examination results in the First Year Class at Murray Bridge High School of 96; the next in the class achieved 82.8. She was pulled out of school at the end of the year to help at home. I have been told  that the High School Principal rode his pushbike to Toora in an attempt to convince her parents that she should continue at school. We'll never know what she could have achieved academically. Her 11 children and their descendants are her legacy.
I understand that she worked for a while in the milk factory at Murray Bridge.
Newspaper reports accessed through Trove indicate that Elsie won prizes at Sunday School picnics, gave an item and participated in humorous dialogues at Lutheran Young Peoples Society anniversaries, won the ladies prize at a euchre evening for the Hundred of Mobilong School and attended 21st birthday parties at which she gave a recitation.
Elsie and Arthur Mann were married on 1 October 1930 by Pastor Doehler  at Christ Church Lutheran in Murray Bridge. "The bride wore a pretty gown of white celenese, flared skirt with smocking on bodice. Her lovely embroidered veil was worn cap fashion with three rows of orange blossom and buds across the front. She carried a bouquet of white flowers and fern." Hilda Kuchel (her sister) was bridesmaid. Irene Heinrich (cousin of the bride) and Dora Mann (sister of the groom) were also mentioned in the report. Dad was attended by his nephew Ted Pfeiffer and Mum's brother, Edwin.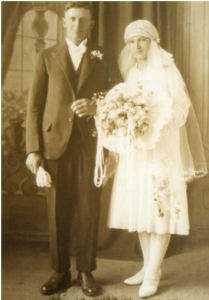 Arthur and Elsie Mann, 1 October 1930.
Mum and Dad had 11 children in 22 years, moving from Sherlock to Long Flat in 1942 and into Murray Bridge for their later years. I am advised that, while living at Sherlock, Mum taught the older members of the family at home (in both English and German) for their early schooling. 2 of those 4 children became schoolteachers.
In between having children, Mum helped Dad on the farm, milking the cows, looking after the garden and taking an active interest in the community. I believe she was Secretary of the Long Flat Hall Committee for many years. Mum did all of the driving of the car (a 1929 Dodge) and running us children around to our activities. Over the years she took many of us to Adelaide for optical appointments at the Outpatients' Department of the Adelaide Children's Hospital.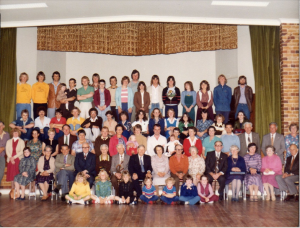 At Mum and Dad's 50th wedding anniversary, 1 October 1980. Cousins, children, grandchildren and their spouses.
Mum died in Murray Bridge on 12 October 1981 and is buried in the Murray Bridge Cemetery with Dad.