My ­­­father died 40 years ago today on 19 April 1982.
Arthur Theodore Mann was born on 13 October 1903 at a property owned by Johann Gottlieb Jaensch near Murray Bridge, South Australia, near the "old granite rock", which he would see later in life from the verandah of his Long Flat home, and which was near where the Swanport Bridge ­­is today.
He was the last of thirteen children born to Christian Eduard Mann ("Eduard") and Juliane Christiane ("Christiane") (nee Riedel).
Dad was baptised at Murray Bridge by Pastor LE Kuss on 22 November 1903; one of his sponsors was my maternal great grandfather, Johann Christian Kuchel. Dad went to school at Sherlock for 4 years before leaving school at the age of 12 to work at home. He had completed Class 4 which was later called Grade 6. On 30 March 1919, he was confirmed at Buccleuch by Pastor J Riedel. After the farm at Sherlock was sold, Dad moved to a property about 6 miles from Moorlands, adjoining his brother Anton's farm.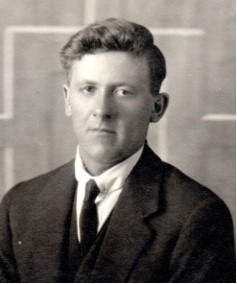 Figure 1 Dad at 21. Source: Diana Mann
Dad married Louise Elsa Kuchel on 1 October 1930, the wedding conducted by Pastor John Doehler at Christ Church Lutheran in Murray Bridge. He was attended by his nephew Ted Pfeiffer and Mum's brother, Edwin. The wedding breakfast was held at Zanker's Café and was attended by about 50 persons. In the evening, a reception was held in the Parish Hall. Mum and Dad left for their future home at Grasslands by motor vehicle.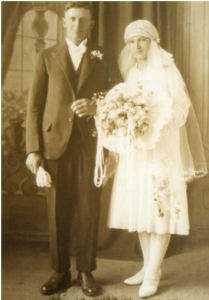 Figure 2 Mum and Dad on their wedding day, 1 October 1930.
11 children were born to them, with the first, Ruth, on 16 August 1931, and the last, Lyall, on 7 July 1953.
I remember Dad telling me that at Grasslands they would get one good year in seven. They needed finance. The Farmers' Assistance Board would not lend them money unless he planted crops. The first year they broke even.
On 13 March 1939, it was resolved in the Court of Bankruptcy, District of South Australia, that Arthur Mann execute a Deed of Assignment in pursuance of Part 11 of the Bankruptcy Act 1924 1933. I am advised that a Deed of Assignment means that he handed over all his assets but was not bankrupt. A forced sale of stock and equipment occurred towards the end of 1939. A final dividend was announced to be intended to be declared on 16 June 1940. How they (Mum, Dad and the oldest 4 children) lived under the Deed of Assignment, I have absolutely no comprehension. I am told that they received considerable support from relatives on both sides of the family at that time. But they were still eating inadequately.
They farmed at Grasslands until 1942 when they moved to a dairy at Long Flat, near Murray Bridge. I am told that money was borrowed from relatives.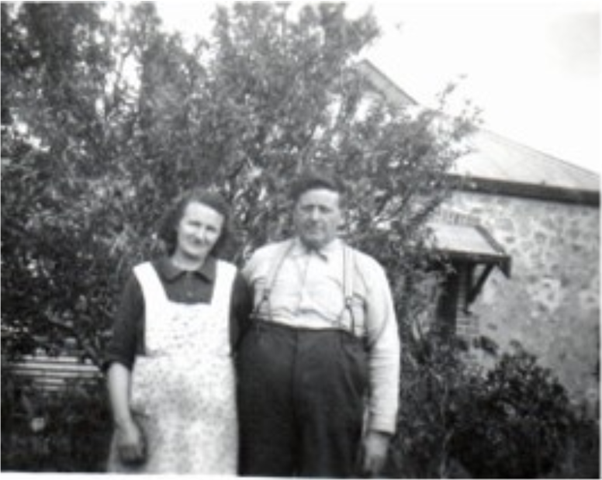 Figure 3 Mum and Dad by the house at Long Flat. In normal working clothes – Mum with apron, Dad with braces. Source: Diana Mann.
At Long Flat, we always had a dog to assist with the cows and other animals. I have been reminded they were all sheepdogs; I remember Shep, Flossie and Lassie. Dad was at heart a mixed farmer but the regular income of the dairy was necessary to survive and to look after the family.
I understand that Mum and Dad spoke German in the home until moving to Long Flat.
In my lifetime, Dad had difficulty walking distances. I understand there were times when my oldest brothers Neil and Ian undertook Dad's physical community involvements relating to Long Flat and the farm. I understand he suffered from a bad back, among other things, and I remember him using at least one (if not two) stick(s) to help him walk any distances. He drove the car reluctantly, relying on Mum to get us around virtually all of the time (except when she was in hospital).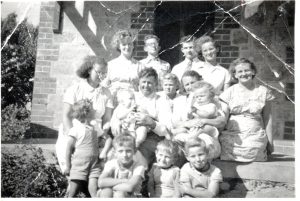 Figure 4 Dad, in his element,  with his wife and children on the front verandah at Long Flat, 1956. Back row: Mavis, Ian, Neil, Betty. Middle: Hilda, Dad nursing Susan (Hilda's first), Christine, Mum nursing Christopher (Ruth's first), Ruth. Front: Lyall, Dean, Philip, Robin. Source: Diana Mann.
In 1964, the dairy was sold, but they kept the house block until 1976 when they moved to Hannaford Street, Murray Bridge, where they lived until just before he died on 19 April 1982. The move was delayed partially by a court case brought unsuccessfully against my father by a would-be-purchaser but Dad had not signed a contract.
Mum died on 12 October 1981, meaning they spent 51 years married. I remember bringing Dad down to visit Mum in the Queen Elizabeth Hospital in July 1981. I left them holding hands. After Mum's death, Dad was confident he would be joining her in Heaven.
Dad and Mum are buried together in the Murray Bridge Cemetery. The big times of their lives, baptisms, marriage and funerals all were celebrated in Christ Church Lutheran where most of their 11 children were also baptised and confirmed.
My Dad was a gentle man and a gentleman.